Artwork Requirements
Artwork Will Only Begin Once an Order is Placed and Secured With a Deposit
Screen Printing
We want to provide you with the best quality print and fast turnaround for your job, proper artwork is essential to achieve this. It can be provided by you or created by our art department.
You can avoid artwork fees by providing your own vector based artwork, please reference requirements below. Need art direction or design? We can help, call or email us to discuss a quote.
Digital Formats

Adobe Illustrator – RECOMMENDED: (saved back to version CS3) Preferred format. Convert ALL type to "outlines" to avoid font conflicts. Do not use compound paths to create native artwork, if you do, "release" them prior to sending. Send ALL supporting files for images you have placed or used in the document (scans, logos, etc.)

Adobe Photoshop – NOT RECOMMENDED: As most files will need to be redrawn for best printing results (saved back to version CS3) Files created to desired final print size and at a resolution of 300dpi or higher might be acceptable, pending overall design. Native CS3 files with the layers must be provided. Lower resolution files not to size will cause a fuzzy and jagged edge. IF you have a multi-color design we prefer vector line art from Illustrator, as this will give you the highest quality print possible.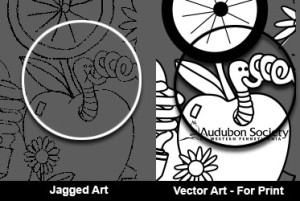 TIFF/JPEG/GIF/PNG files are not acceptable formats for screen printing as they tend to be small and of low resolution. They are only acceptable formats for us to quote both the printing and associated artwork costs.

Full Color Pictures – brought in to office to be scanned, only acceptable art format for a full color heat transfer job.
Art Work
If you don't have the formats required above or need some guidance, search vector illustrations from these sites by changing the search bar from All Files to Vector. Then email us over the stock number or vector ID number so we can download the image and start on your design. Artwork will only begin once an order is in placed and secured with payment.
Fonts
Looking for a unique font for your custom design? Search these sites, just type in the text you want and it will show you what it will look like. Then email us the name of the font so we can download it and incorporate it into your layout.
Stahls (Font/color/size options for heat pressed names & numbers)
Embroidery
Embroidery logos need to be digitized, the process of putting your logo into stitch format, and artwork requirements vary from screen printing.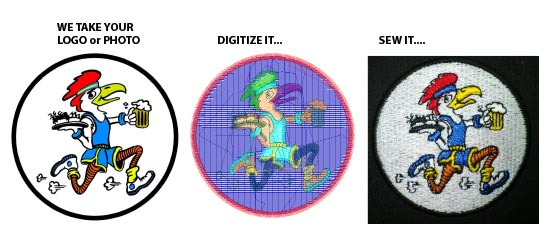 Digital Formats
DST/PXF – Useable file extensions if you already had your logo digitized. We only use Tajima brand embroidery machines, existing digitized files need to be compatible with our machines.
Adobe Illustrator: (saved back to version CS3) Preferred format. See description above.
Adobe Photoshop: (saved back to version CS3) See description above.
JPEG/TIFF/GIFF/PNG – acceptable in the highest resolution available.
Artwork – Digitized Files
If you don't have the required formats or need guidance, search already digitized images from these sites:
Other Links